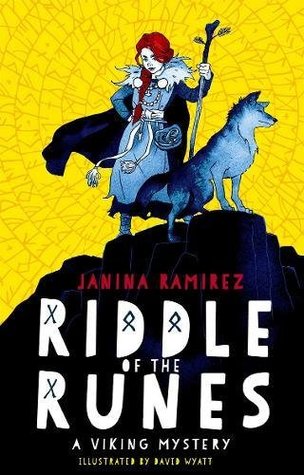 Riddle of the Runes by Janina Ramírez
My rating: 5 of 5 stars
Now I have read a LOT of Viking historical fiction. Some of it aimed at children but the majority for teenagers and adults.
Most such books involve lone warriors or longship crews, exploring new lands, battles and wars, slaves and treasure hoards. A few and only a few feature women or girls.
This story features 2... A daughter and mother.
This story involves a pair of strangers from a foreign land, a talking raven, a pet wolf and a set of runes that only certain people can read the meaning behind. Also kidnapping, a small fight, religious sacrifices, fear, family history and memories.
It is a brilliant unique down to earth insight into the Viking world the way the Vikings saw themselves without the tint of Christianity or Anglo-Saxon heritage.
It shows the pride they had for themselves in appearance, possessions, wealth, status, success in exploration and raiding and trading and craftsmanship...
It has a real sense of danger, drama, fear but also of bravery, love, trust and gutsyness.
The illustrations that accompany the story are superb and really bring the whole adventure to life and a lot of the objects, including the key piece of the rune puzzle are in fact real life artefacts found during excavations and can be seen in various local or national museums.
It is an excellent book for children (age 10+) especially if parents read it to them for some scenes among the family are great at helping children understand the protectiveness of parents but equally help parents understand the children's need to do things, within reason, for themselves.
I think the theme of family is what really won the book a place on my favourites shelf. Many Vikingy stories involve family usually revolving around revenge or the desire to improve a families reputation and often through the means of earning fame and glory away from home. This book really shines a light on the family of those who go a-Viking and most significantly that there is adventure to be had without crossing the seas.
I adored every chapter and illustration and Alva is now my favourite Viking girl and I am delighted that we will get to follow at least two more of her adventures in new books.
A stellar debut from my favourite historian. Bravo Janina Bravo!
View all my reviews